We had two parents, just not at the same time.
When Mom and Dad divorced I was two years old, and my sister was only a baby, so neither of us remembers the two of them as a pair. We have lots of memories of them as separates, though.
Like the time Dad shaved off his beard, and we couldn't recognize him anymore. We stormed into Grandma's kitchen and demanded, "Where's my dad?" and the stranger sitting atop the woodstove wearing Dad's black cowboy boots laughed and laughed.
Or the time Mom told us we were going to visit Santa Claus. We went on an airplane trip and I remember looking down on the puffy clouds below and asking her if we could ski on that snow. The foil package of peanuts was so salty that it burned my mouth. When we landed we were in Colorado, not the North Pole, and I was bitterly disappointed.
Mom tells me that some of our visits with both parents during those early divorce years would have been defined by certain authorities as child snatching.
When we were with mom we were WITH MOM. We didn't phone our dad- we didn't even know his phone number. (Did he have a phone?) We liked visiting/living with Mom because she let us choose our own breakfast cereal, and she said silly things.
When we were with Dad, we didn't know if Mom lived on the next block or on Mars. Sometimes she would materialize at our front door bearing gifts. Once she brought an EZ Bake Oven, and a battery operated sewing machine. We sewed ugly Barbie clothes out of old socks and dirty T shirts until the batteries wore out, and we fed Dad chocolate cake after chocolate cake until all the tiny cake mixes were used up. Then they both became gigantic appliances for Barbie.
When we had a place of our own with Dad there were always cows and chickens around, and when we were really settled we had pigs. Dad used to pretend to sit on the pigs, and we girls squealed with laughter when the pigs scooted out from under him and he pretended to fall on his bum.
Sometimes we weren't with either of our parents. Those were the times when we relied on our aunts and uncles.
Aunt Barbara tells me stories about how us kids (she had three of her own) used to help her weed the garden when we lived with her. I don't remember that, but I love that she still sends me teddy bears when I'm lonely, Hershey Kisses when I'm sad, and Cinnamon Bears when I'm afraid.
Then ones I remember best are Uncle David and Aunt Eunice. Donna and I moved in with them the summer before I started the sixth grade, and it was a tough change. It was scary enough moving into their 100 year old farm house with its peeling, water stained wallpaper and its eerily tall doors; it was terrifying to have to learn how to have manners like they did.
"Patti, don't use your finger to push your peas onto your fork."
I couldn't figure out how to eat peas for months.
Aunt Eunice taught us about doing our laundry, taking showers every single day, and combing our hair properly. She bought me my very first bra. Sometimes, she did unexpected things. Like the day I told her that I'd learned how to make mini pizzas in Home Economics class.
"Would you like to make mini pizzas for dinner tonight?"
Aunt Eunice dutifully recorded the necessary ingredients and went off to the store. I will never forget the queasy mix of emotions churning in my stomach as I carried that plate of mini pepperonis to the table that night:
Ashamed: Who would want to eat these stupid pizzas, when we could have had Aunt Eunice's cooking?
Sheepish: I wasn't accustomed to being treated like an adult.
Shy: David and Eunice's real daughters were right there, but everyone was paying attention to me.
Mixed in with all of those greenish feelings, was a little bit of pride, and a lot of disbelief.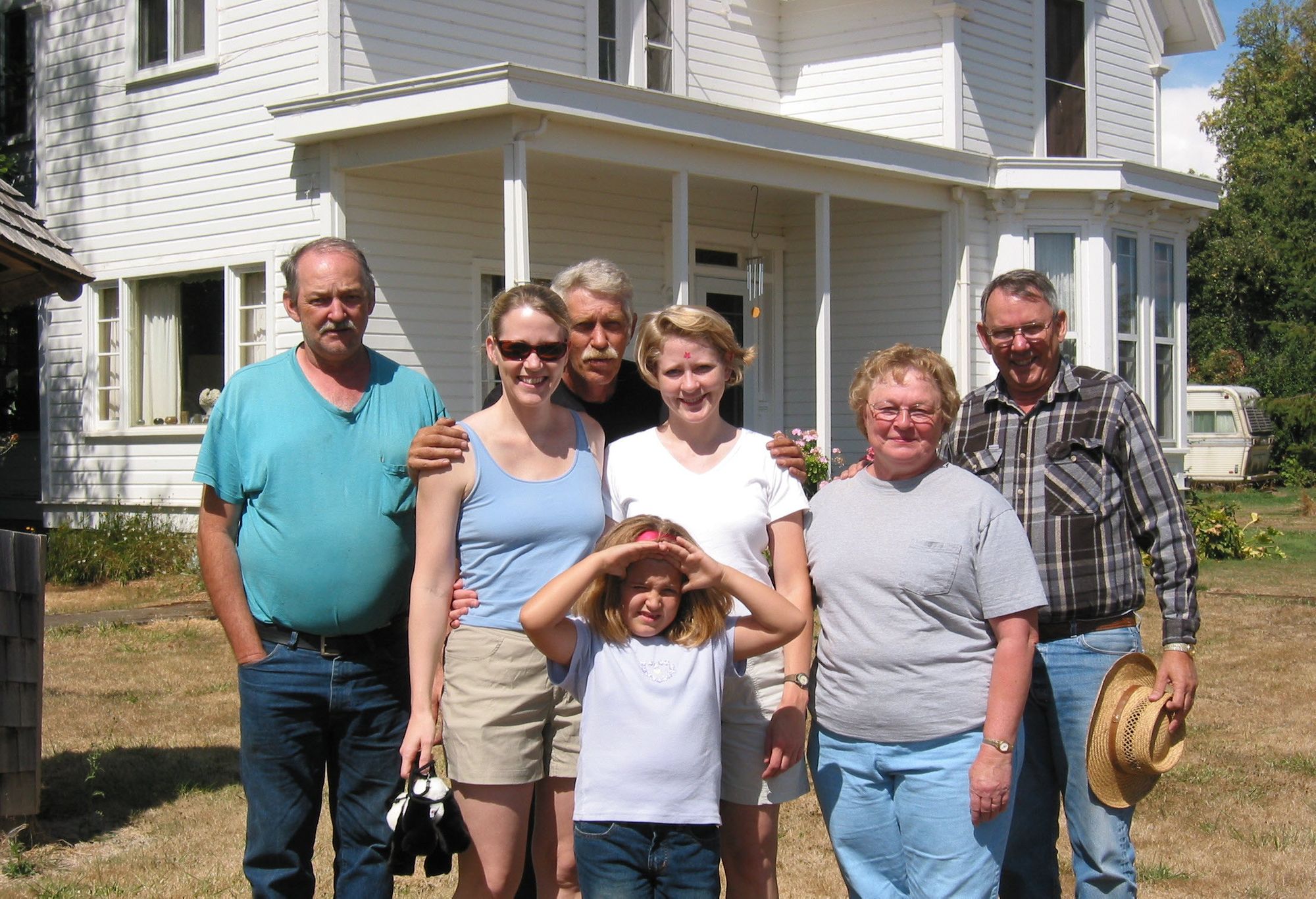 After that school year ended Donna and I went to live with Mom for real, and we didn't have to go and stay with any more aunts or uncles. I was relieved to be back with my 'real' family because- no matter how well I was welcomed- I always felt like a burden and a misfit when I lived with my aunts and uncles. But I missed the farm. My year there had made it's mark on me; I continued baking apple pies the way Aunt Eunice had taught me, and I never pushed my peas onto my fork with my fingers again.
When I brought Kris home to meet my family he met both Mom and Dad, and he met my outspoken little grandmother as well. But I also made sure that he got to spend a lot of time on Aunt Eunice's farm. After all the moves and adventures of my life, I knew there was one place we could go where he'd see one piece of my life story that is still there, right where I left it. It didn't hurt that he got to eat plenty of home made ice cream while he was there.
Over the years, Aunt Eunice has given me so much more than a place to crash during that one rough patch. Aunt Eunice has given me a home for life.